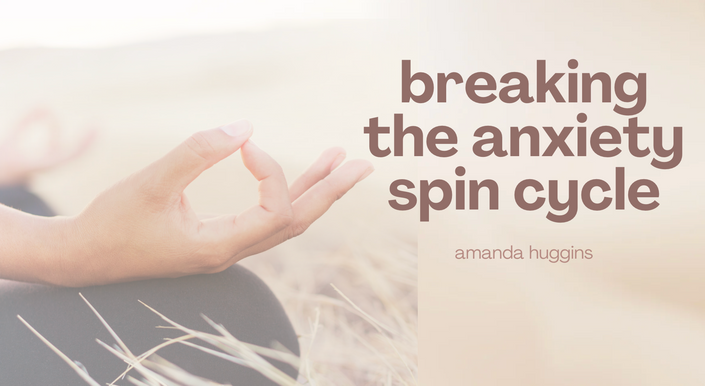 Soulful Anxiety Healing: Breaking the Anxiety Spin Cycle
Ready to BREAK the endless, anxious thought loop that is anxiety spin cycle? Start here.
Watch Promo
Enroll in Course
Unlock Your Inner Power: Break the Anxiety Spin Cycle
Are you tired of feeling trapped in the never-ending cycle of anxiety?
Are you ready to become more in control of the anxious mind?
Are you ready to take the foundational steps required to life filled with confidence, calm, and boundless resilience?
Welcome to the Breaking the Anxiety Spin Cycle, a foundational course in the Soulful Anxiety Management Series, where I'll teach you the basics of long-term anxiety healing in mind, body, and soul.
Whether your anxiety is an inner request to heal from the past, a "soul nudge" asking you to enact quantum change in the present, or something else entirely…one thing is for sure: it's trying to get your attention. Most of us live in resistance to our anxiety. We push it away, hoping that if we avoid it for long enough, it'll disappear. But this resistance only perpetuates anxiety and solidifies the neural pathways that sustain anxious thoughts and behaviors.
I want to equip you with an understanding of what's actually happening when your anxiety brain starts to spin, and offer a few quick tips on how to begin mindfully working into that cycle, rather than working over it.
You can change your life by changing the way you work with your mind works.
All you need to begin is an open heart, a pair of working lungs, and maybe a journal to jot down all of those brilliant insights inside that beautiful brain of yours.

Course Curriculum
Introduction
Available in days
days after you enroll
The Anxiety Spin Cycle
Available in days
days after you enroll
Breaking the Cycle
Available in days
days after you enroll
Long-term anxiety healing means that anxiety must be addressed in mind, body, and soul. It's crucial to tackle the anxiety spin cycle first because it serves as the foundation for the entire healing process. By understanding and working with this cycle, you gain essential insights into your anxiety's root causes and patterns. This knowledge empowers you to make lasting changes at the core, setting the stage for effective neural reprogramming and the cultivation of a positive mindset.
In this introductory class, we'll break down the dreaded "Anxiety Spin Cycle" and equip you with valuable skills and tools to begin collaborating with your anxiety rather than battling it. Together, we'll embark on a journey of self-discovery and healing, providing you with practical "triage" strategies to identify and manage anxiety, self-reflection prompts to understand and ultimately heal your anxiety cycles, and five bonus meditation audios to support your healing process.
What's in This Course:
Four video lessons (over 1 hour of teachings) on the Anxiety Spin Cycle

Practical "triage" strategies to identify and manage anxiety

Self-reflection prompts to help you understand, and ultimately heal* your anxiety cycles

A PDF workbook to explore the Anxiety Spin Cycle

Plus, bonus meditation audios to support your healing
What You'll Learn:
The best ways for you to address the Anxiety Spin Cycle and begin taking control of the incessant barrage of thoughts and anxious feelings

Techniques to calm the nervous system when the body is in fight-or-flight

A deeper understanding of your unique anxious patterns and programs
Your Instructor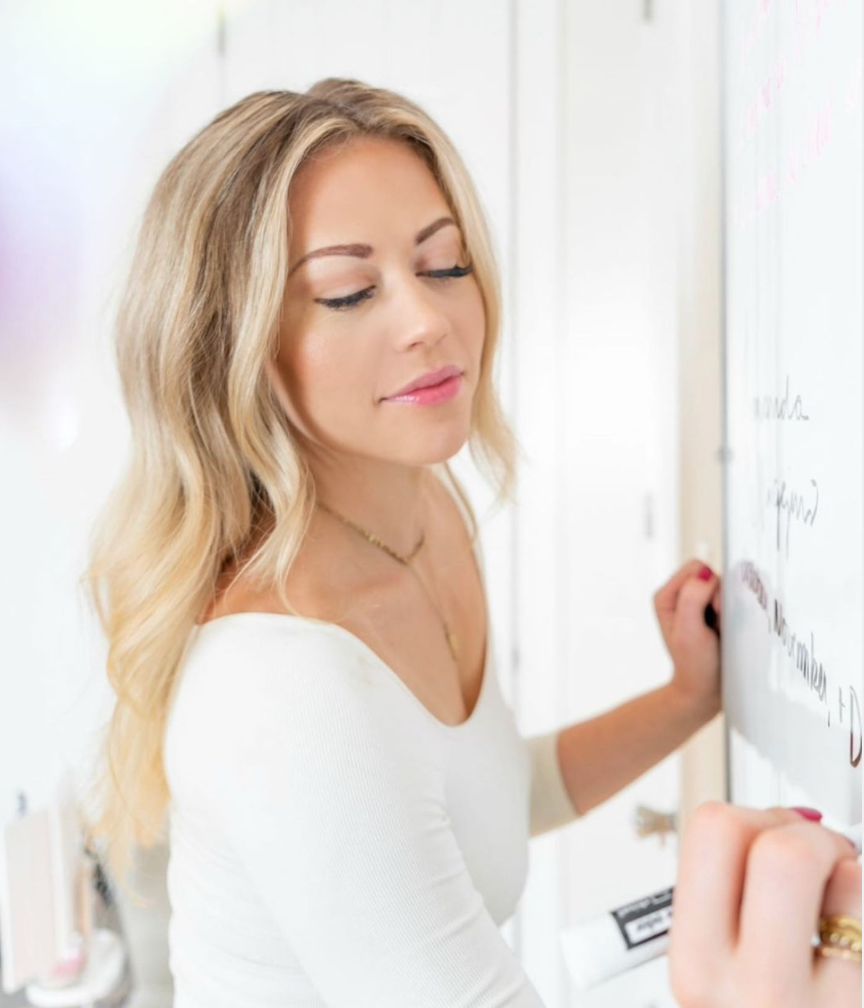 Amanda Huggins is a respected Anxiety and Mindfulness Coach, certified yoga instructor, brand ambassador, published writer, and keynote speaker.
After successfully spending nearly a decade in the startup space as a content and communications specialist, Amanda broke past her fears to follow her calling for helping people break past their internal barriers of self-worth, fear, and anxiety. Her unique blend of spiritual, scientific, practical, and accessible approaches has helped hundreds of clients move beyond their anxious minds and into a state of profound, holistic success.
Amanda has partnered and shared her wisdom with category-leading brands, including Gravity Blankets and Gaiam. She regularly offers workshops & digital courses for clients, international audiences & corporations. She is committed to sharing her value-added insights supporting her mission to help as many people as possible who deal with anxiety and related issues. In large part, Amanda does so via her ever-expanding social media community comprised of over 350,000 followers across TikTok, Instagram, and YouTube. She resides in New York City with her beloved dog Spartacus.
· Website · Instagram · TikTok ·

I took the leap and invested in myself in a way that stretched me, scared me, and excited me all at once.
Within my first year of working with a coach, I experienced mind-blowing personal transformations. I began to truly see, hold, and nurture myself for the first time ever. From that space of deep self-love, I was able to create massive transformation in my inner and outer worlds. Some of the highlights: I left an anxiety-inducing career, healed my relationship to my body, cleared out emotional trauma I had been carrying for years, and began to experience more joy and excitement than ever before. I deeply believe in the power of coaching, because it changed my life.
Today, I have the privilege of supporting YOU on your journey in mind, body, and soul. I'll hold up the mirror so that you can look within, equip you with tools for mind, body, and soul healing, and offer you compassionate support when you need it most.
I'm so, so glad that you're here.
Let's get started!
Frequently Asked Questions
When does the course start and finish?
The course starts now and never ends! It is a completely self-paced online course - you decide when you start and when you finish.
How long do I have access to the course?
How does lifetime access sound? After enrolling, you have unlimited access to this course for as long as you like - across any and all devices you own.
What if I am unhappy with the course?
We are happy to refund your course if you have participated in less than 25% of the program.